The Bearbury Bear Family
Sylvanian Families Bearbury Grey Bears (4307 - Angeles' Bedtime Set; Paramedic and Patient - 4412)
Released: Circa 2003
Father: Bruno Bearbury (Dining Room)

Mother: Yvonne Bearbury (Stroll in the Park)
Brother:

Owen Bearbury (Paramedic & Patient)

Brother:

Oliver Bearbury (Birthday Celebration) (Not Owned)

Brother: Raymond Bearbury (Main Street Toy Shop) (Not Owned)
Sister: Angeles Bearbury (Angeles' Bedtime)
Sister: Ashley Bearbury (Birthday Celebration) (Not Owned)
Sister: No Official Name (School Field Trip) (Not Owned)

Crawling Baby Brother: No official name (Twins)

Sitting Baby Sister: No official name (Twins)

Standing Baby Sister: Harriet Bearbury (Birthday Celebration) (Not Owned)

Sitting Baby Sister: Lilly Bearbury (Main Street Toy Shop & Twins) (Not Owned)

Grandfather: No Official Name

Grandmother: No Official Name
Yvonne Bearbury and her baby daughter Harriet love their trips to the park, to see and smell the flowers, hear the birds sing and most of all play in the sand pit. Yvonne builds a big, big castle of sand and Harriet giggles as she knocks it down. There's more giggling when they get home and mum washes what seems like a mountain of sand from her little princess!
Ageles Bearbury is a pretty little girl. She has routines she adheres to rigidly from the moment she gets up till bedtime. At 7 o'clock on the dot she kisses everyone good night, then she cleans her teeth, and puts on a fresh pair of pyjamas and her slippers before climbing the stairs. She and her bear "Teddy" carefully select a book to read in bed, then snuggle up to sleep.
Owen Bearbury is an accident prone little bear, if he is not falling off his bike and scraping his knee, he has got his head stuck between the school railings, making him a regular patient for the busy Thomas Nightingale.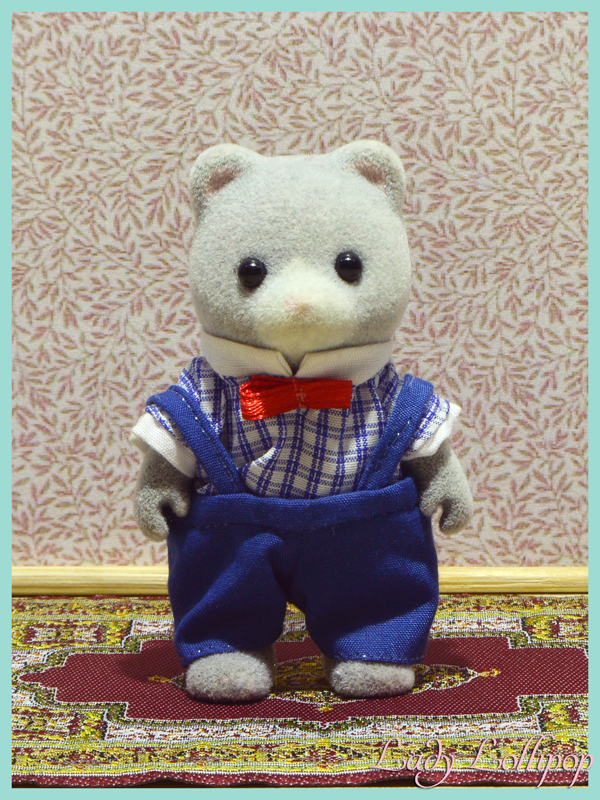 School Music Lesson (4415)
Releasedsed: Circa 2011
Henry Bearbury is the music teacher at Berry Grove School. The school orchestra is very well equipped with a grand piano, glockenspiel, accordion, recorder, drums, cymbals, triangle and a conductor's baton. Mr Bearbury leads the school orchestra from his seat at the piano. The orchestra performs at all school concerts, school plays and other special events.
Click here for more information on the School Music Lesson Set.
*Each figure of the Bearbury Bear family was released in a separate set. Some of the figures were released more than once and sometimes came with a name change. Grandparents and twins for the Bearbury family were available exclusively in Europe and are very rare.