The Dale Sheep Family
Sylvanian Families Dale Sheep Family (4128)
Released: Circa 2006
Father: Ewan Dale
Mother: Barbara Dale
Brother: Winton Dale
Sister: Iona Dale
Ewan Dale is in charge of the Sylvanian orchards, keeping the grass short and the place tidy. He is very proud of his Victoria plums and crisp, crunchy Cox's pippins but has no time at all for most of the modern varieties.
Barbara Dale is the real family expert on fruit trees of every kind. Her busiest times are late autumn and early spring, when she is in the orchard, pruning and re-shaping all the fruit trees and checking for any problems, very late into the evening.
Winton Dale loves helping his mother and father in the orchard. His favourite job is looking after the bonfire but before he can do this, he has to rake up all the fallen leaves and twigs which he finds a bit boring and doesn't particularly enjoy. However, he is always very thorough, as he knows that the more he collects, the bigger the bonfire will be!
Iona Dale has been given the very important job of collecting and sorting all the different types of fruit. She much prefers this part-time job than going to school, because she can chew to her heart's content, without any teacher telling her that it is not allowed!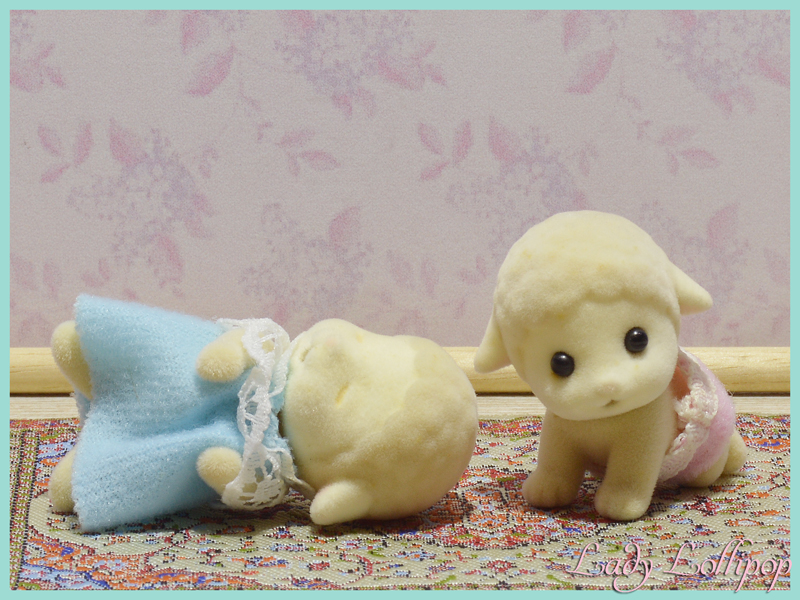 Sylvanian Families Dale Sheep Twins (4131)
Releasedsed: Circa 2006
Sleeping Baby Broter: Sean Dale
Crawling Baby Sister: Shona Dale
Baby Twins Sean and Shona Dale play happily in their double pram, while the rest of the family are working hard in the orchards. Their favourite fruit is the peach and their mother loves to hear them chortle with delight as she gives them a ripe one to share. Unfortunately they are too young to understand why such delicious treats are only available eight weeks of the year!
Sylvanian Families Dale Sheep Baby (4129)
Releasedsed: Circa 2006
Standing Baby Sister: Emma Dale
Emma Dale really enjoys attempting to help the rest of the family in the orchard, even though she is very small. She is quite happy following everyone around the different trees, dragging an old fruit basket behind her. After being stung one afternoon by a wasp, she soon learnt not to pick up the fallen fruit from the ground!


Sylvanian Families Dale Sheep Grandparents (4769)
Releasedsed: Circa 2006
Grandfather: Wesley Dale
Grandmother: Dove Dale
The Dales look after the orchard in Sylvania, and Grandfather Wesley Dale planted it back when he was young, he likes to stroll through the orchard at every possibility. Grandma Dove Dale loves to look after the grandchildren and they love her as she likes to play hide and seek with them. But she is best loved for her home cooking and her grandchildren always ask for seconds.
*This family is one of the cutest ones in all of Sylvania! In the US, they were known as the Lambrook sheep. Except for minor changes in the fabric of their clothes, their names and biographies, they are practically the same though. I do find that my grandparents and twins of the UK variety, are slightly more yellow in colour than the US version.