The Periwinkle Rabbit Family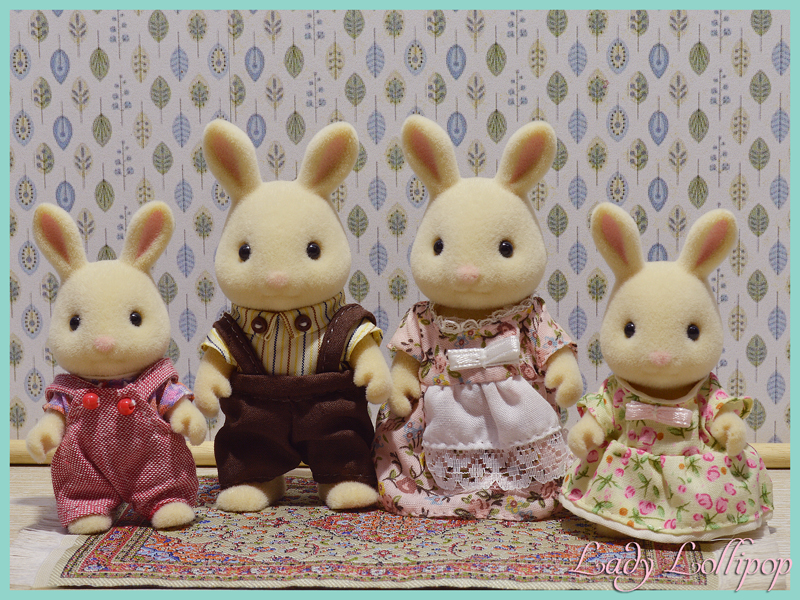 Sylvanian Families Periwinkle Rabbit Family (4108)
Released: Circa 2004
Father: Alex Periwinkle
Mother: Kate Periwinkle
Brother: Oliver Periwinkle
Sister: Rebecca Periwinkle
Father Alex Periwinkle, the Sylvanian sign writer, has to be incredibly patient when he is working, because one mistake and he has to start all over again. His biggest job to date was preparing the signs and banners for the Brambles Department Store.
Mother Kate Periwinkle helps her husband, Alex, with the design and use of colour in his work as well as looking after the family. She gets very annoyed with Alex because he is always forgetting to change into his old work clothes for work and comes home with different coloured paw prints all over his trousers. This causes lots and lots of washing and ironing which Kate has little time for, being a very busy lady!
Brother Oliver Periwinkle is very good at tennis. When his grandfather, Mack, told him that one day he might become the Sylvanian Open Tennis Champion, he thought that he was joking and said: "You cannot be serious".
Sister Rebecca Periwinkle is an all-round athlete, playing rounders and hockey for the school and tennis with her brother, whom she just loves to beat. She is always hopping from one game to another.
Sylvanian Families Periwinkle Rabbit Babies (4109b Boy; 4109g Girl)
Released: Circa 2004
Standing Baby Brother: Jamie Periwinkle
Standing Baby Sister: Hannah Periwinkle
Baby Brother Jamie Periwinkle loves sleeping more than anything else, even at meal times. His mother, Kate, is always having to tickle his paws to make him wake up and finish his meal.
Baby Sister Hannah Periwinkle loves having walks in the park, where she watches her sister, Rebecca, being sporty. She is always saying to her mother, Kate: "Please let us go and watch Rebecca play."
Sylvanian Families Periwinkle Rabbit Grandparents (4110)
Released: Circa 2003
Grandfather: Mack Periwinkle
Grandmother: Mabel Periwinkle
Grandfather Mack Periwinkle, when he was younger, was the Sylvanian Open Tennis Champion three years on the bounce. He had to give up playing when he got a bunion on his big toe. Now that he is older he coaches his grandson, Oliver, who he expects to be the next champion.
Grandmother Mabel Periwinkle is an expert at knitting and sewing, making all her own clothes, as well as those for her grand children. She was credited with making Mack the smartest dressed tennis player in Sylvania.
Sylvanian Families Ivy Mark Periwinkle Rabbit Older Sister
Released: Circa 2004
Older Sister: No Official Name
*This lovely figure was released to mark the 20th Anniversary of Sylvanian Families in Japan and was exclusive to the Ivy Mark Campaign. As such, she is quite difficult to find now.
Sylvanian Families Periwinkle Sister from Gift Set
Released: Circa 2005
Sister: Rebecca Periwinkle (In party dress)
*This promotional Periwinkle rabbit sister in her pink party dress came with a gift set version of "Raspberry Cottage" in Japan.
Sylvanian Families Raspberry Cottage with Periwinkle Sister.
Sylvanian Families School Friends Set (5170)
Released: Circa 2015
Sister: Rebecca Periwinkle (In school uniform)
Click here for more information on the school friends set.
*The Periwinkle family includes a number of figures from different playsets. There are also numerous special versions of family members in different sets, as well as extended family members.