The Pettyfur Guinea Pig Family
Sylvanian Families Pettyfur Guinea Pig Family (4146)
Released: Circa 2007
Father: Peter Pettyfur
Mother: Penny Pettyfur
Brother: Andrew Pettyfur
Sister: Nicola Pettyfur
Peter Pettyfur is a great ideas man when it comes to saving money. "Turn out the lights and the TV off when you leave the room", "You only need four inches of bath water", and "Turn the radiators down. If you're cold put on a jumper" are just a few of his better ideas!
Penny Pettyfur is a very caring person who sorts out everyone's troubles and problems. She has time for all, but no time for silly ideas or arguments, so she agrees with her husband, Peter's, latest wonder plan with a wink and a smile to the children!
Andrew Pettyfur is the hardworking member of the family; he has to be because he aims to keep the peace by implementing his father's money saving ideas. His worst job is washing up as soon as the meal is finished, before what's left on the plates begins to stick and dry... it saves on washing up liquid.
Nicola Pettyfur is the "saleswoman" of the family, which is why she loves her father, Peter's, ideas...she sells then to her friends in the school playground. "Give me 50p and I'll tell you how to save £8.75 a year" gets them every time!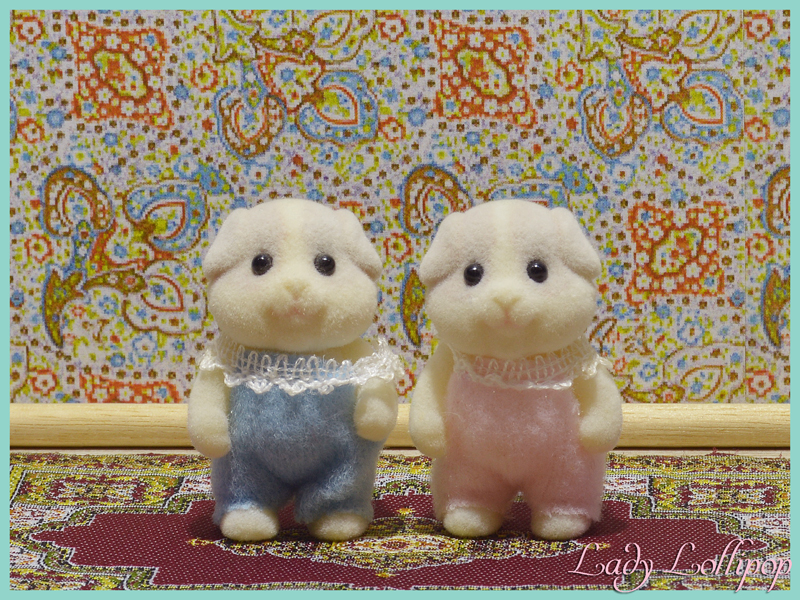 Sylvanian Families Pettyfur Guinea Pig Babies (4147)
Releasedsed: Circa 2007
Baby Broter: Simon Pettyfur
Baby Sister: Lindsey Pettyfur
*I love how the boys and girls are different colours in this family! It seems to happen later in life though, as both genders are white when they are babies.
The adorable little Pettyfur Guinea Pigs are unique to the UK range as a family set with standing babies. (The babies each came with a crib and bottle.) However, in the Calico Critters line a set with two sitting babies and a mother was released. I found the UK family and especially the babies quite difficult to track down.