The Springer Kangaroo Family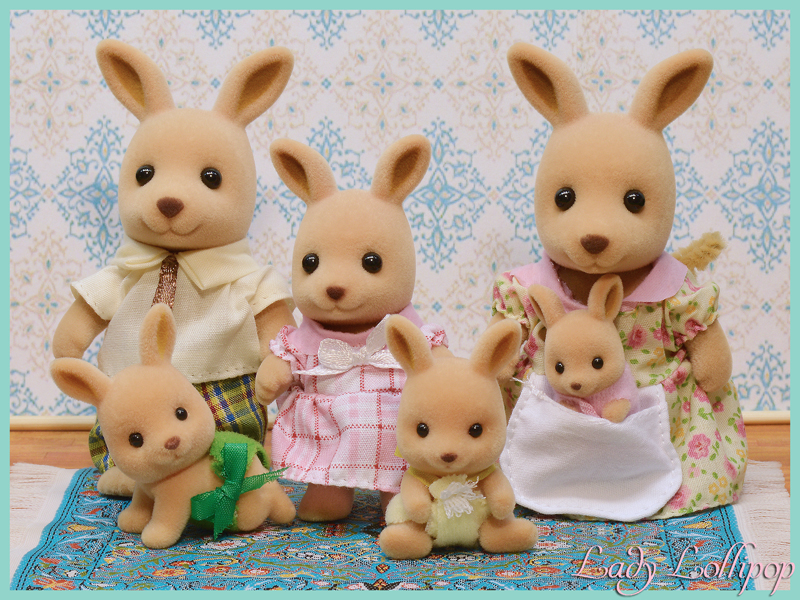 Sylvanian Families Springer Kangaroos (4766 - Family; 4767 - Twins)
Released: Family - 2014; Twins - 2011
Father:

Bruce Springer

Mother: Sheila Springer
Sister: Joanne Springer
Tiny Baby Boy in pouch: Joey Springer
Crawling Baby Brother: Joseph Springer
Sitting Baby Sister: Josephine Springer
Bruce Springer runs the Sylvanian Cricket Club and is also the captain of the team. Depending on which team wins the toss of the coin he either opens the batting or begins the bowling. His finest hour - and it did only take an hour - was when he bowled out the entire second eleven for only twelve runs and then opened the batting for his team and hit each of the first three balls for six. What a win!
Sheila Springer is a great all round sportswoman and is especially good at netball. She is often found at the netball courts either playing her favourite position of goal defence (GD) or coaching one of the junior teams. She works hard at all her sports, encouraging her children to do the same. "Winning is not everything, beating your PB (Personal Best) is!" she claims.

Joanne Springer, like the rest of her family, is sports mad. Her favourite activity is running; to be precise, long distance running. She trains very hard at this, getting up at six o'clock every morning in order to run around the fields, having a quick shower before she dashes off to catch the school bus.

Baby Joey Springer loves to play bat and ball with his father, Bruce. He usually misses the ball with the bat, which makes both him and his daddy laugh.The sports stars of Sylvania on the cricket pitch and netball court.
Joseph and Josephine Springer spend hours with their mother, Sheila at the netball courts. They love to put the netball bibs on and throw a ball together and try to shoot goals.
*The Springer Kangaroo family was originally released in the UK in 2011 and the shape of their faces differ slightly for the 2014 version that I have. The 2014 version also has flat hands while the Flair version had cupped hands. My twins are, however the older 2011 Flair version. The little baby is removable and is extremely tiny! The Japanese, US and European version of this family differs greatly in appearance and looks much more "cartoony" than this version. The US version is called the Hopper family and they have different names to the UK version. The UK version is the only one that includes twins.