The Waters Beaver Family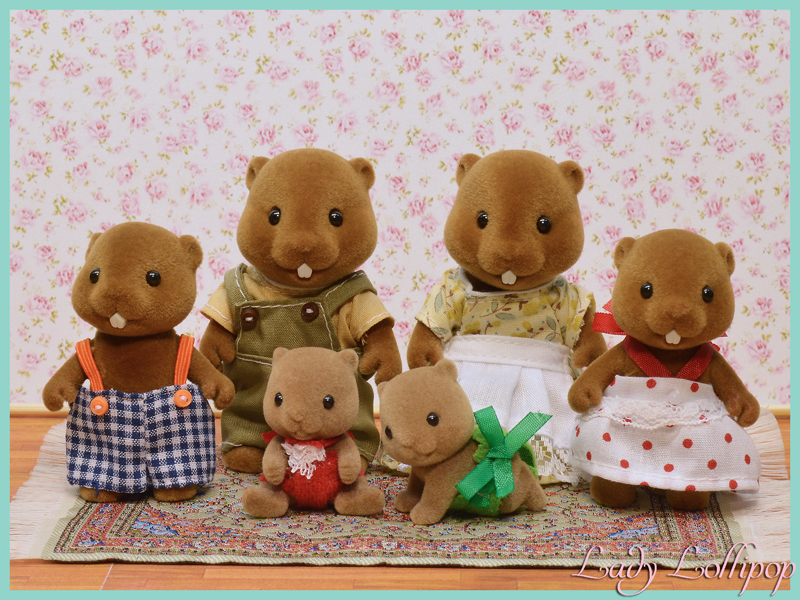 Sylvanian Families Waters Beaver Family (Family - 4058; twins - 4789; Baby - 439lb; Father TOMY - 2895; Mother TOMY - 2896; Brother TOMY - 2897; Sister TOMY - 2898)
Released: Tomy - 1987; Flair - 2010; Twins - 2012
Father: Wade Waters
Mother: Nancy Waters
Brother: Roger Waters
Sister: Misty Waters
Crawling Baby Broter: Bucky Waters
Sitting Baby Sister: Bubbles Waters
Baby Sister: Betty Waters (No Official Name - Carry Case)
Uncle: Reverend Kevin Waters (Not Owned)
Cousin: Murky Waters (Captain's Crew) (Not Owned)
Original Tomy Version - this version had standing babies.
This mother and brother came packaged with a house in the UK and the standing baby is from a carry case.
Wade Waters is the best house builder and carpenter in the Sylvanian woods. He can build you anything from a tree house to a large family home on the hills of Sylvania.
Nancy Waters is a great gardener who grows the most beautiful flowers and delicious vegetables in the whole of Sylvania. She's famous for her miniature roses and sweet peas.

Roger Waters is very friendly and sporty making him so popular he was voted head-boy of his school, a job he takes very seriously.

Misty Waters day-dreams all the time. Her favourite day dream is of being a famous dancer; as the princible ballerina in Swan Lake or topping the bill in the theatre production of Cats.
Bucky & Bubbles Waters love bathtime. Bucky has the widest grin on his face at the mention of bathtime while Bubbles just blows bubbles through her lips as if to indicate the kind of bath she loves best.
The big day has finally arrived in Sylvania. Catherine is looking beautiful in her bridal gown, and William is feeling a little nervous. But the Reverend Kelvin Waters will ensure the ceremony runs smoothly. The Bridemaids Louise and Amelia are so excited, and Page Boy James is on his best behaviour. The sun is shining to make this the perfect wedding day.
Captain Horatio's crew of three consists of First Mate "Beaky", Able Seamouse "Twitch" and Cabin boy "Murky" Waters.  They help the Captain keep everything "shipshape" - working hard with their mops and buckets.  The Captain jokingly calls them his "Motley Crew", which they like very much because it makes them sound like swashbuckling pirates.
*The Waters Beavers were one of the first families to be released in the Sylvanian Families line in 1987. I have one of the original Tomy versions of this family, as well as a Flair version. Originally the family came wth standing babies, but with the 2011 Flair release, sitting and crawling twins were released. In 1993, a cousin was added in the Captain's crew set and in 2011, Reverend Waters was first released with the Royal Wedding set.

**In the US, this family is referred to as the Babblebrook Beavers and in 2014, a new mold beaver was released and originally named the Waters as well! Although this new family later became the Woodbrook beavers.
***My Flair twins were purchased brand new from SSK, and are considerably lighter than the family that was available at the same time.